22 July 2014
Sara and company went on a kid's soundside adventure with me today.
We caught two stingrays at our first stop and decided to move to a new area. We took a tour of "Pelican Island" and then went fishing. I was busy preparing bait, baiting hooks, and releasing fish. Gina was catching fish two at a time. Everybody caught fish at a constant rate and it was fun to watch. We caught a variety of species here with a nice Northern kingfish (sea mullet) that went in the cooler—the largest one ever caught on my boat.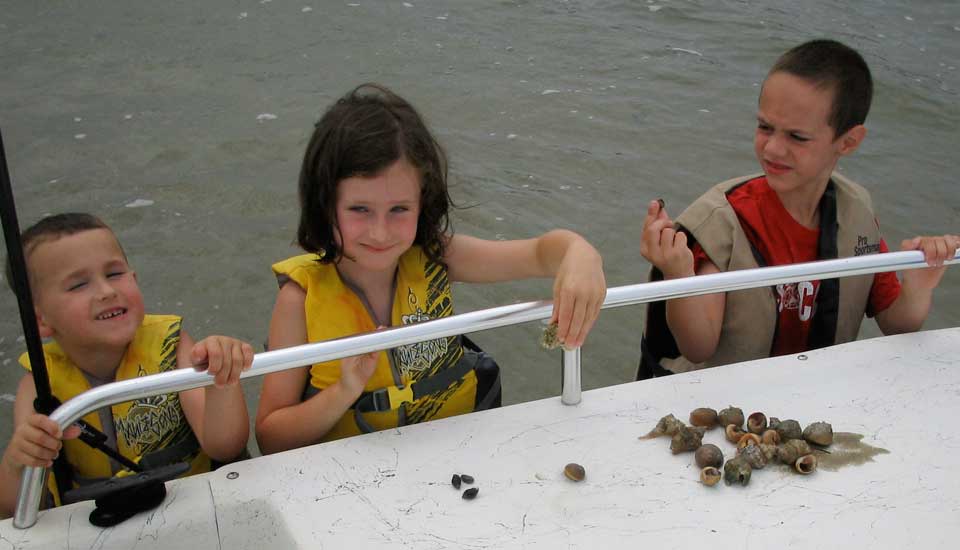 The kids really enjoyed some Hermit crabbing and after playing with them, all were released. The crab pots had several females with eggs. We studied them and put them back in the water.
We saw some jumping dolphins on the way back and got just a little wet as we approached the dock in a light rain. These guys were a fun bunch and really enjoyed fishing hard and steady. I hope they return someday.
Catch
Pigfish
Pinfish
Summer flounder
Northern kingfish
Atlantic stingray
Atlantic puffer
Bluefish