Do you take fishing charters to the ocean?
On exceptionally calm days, I might take parties to the Atlantic Ocean, just outside Oregon Inlet. Contact me if you are interested in a nearshore, ocean fishing charter.
What I normally offer is inshore fishing charters. I fish in either the Albemarle, Croatan, Roanoke, or Pamlico Sound. For a reference, this article provides an aerial map of the Outer Banks sounds.
Which species do you target?
Saltwater Game Fish
Bluefish
Black drum
Red drum
Sheepshead
Weakfish (grey trout)
Spot
Northern kingfish (sea mullet)
Atlantic croaker
In addition to these fish, expect to pull in some recreational by catch as well.
Do you offer fly fishing charters on the Outer Banks?
Yes, fly rod anglers are always welcome on the Kingfisher. The front and back decks have loads of space for casting and stripping.
If you are interested, I will tell you effective patterns to target the species for this area.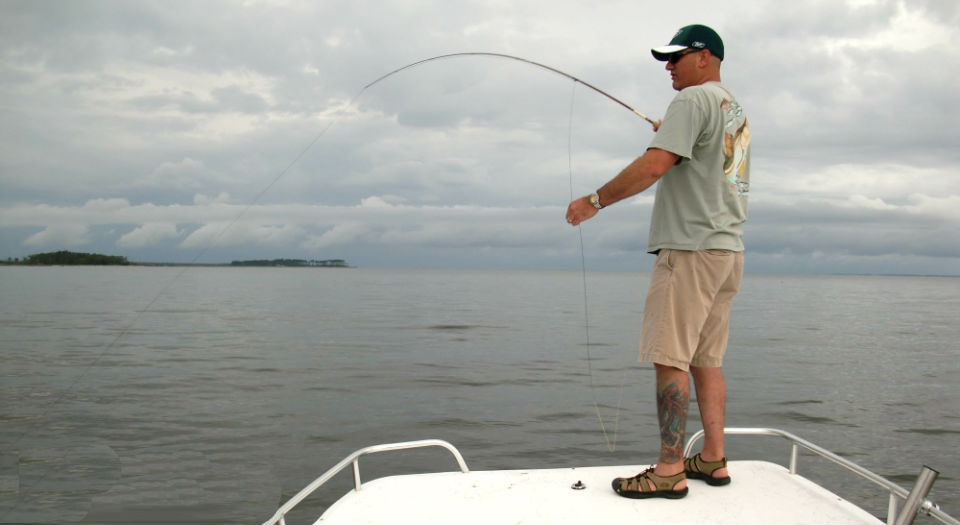 How many people can you take on your boat?
I take up to four passengers on fishing charters and Kid's Soundside Adventures.
Is the charter rate for one person?
No, the charter rates cover up to four people.
On the Kid's Soundside Adventure, I normally take up to four people but sometimes I accept one or two extra guests for an additional $15 per person. Please contact me if you want to bring more than four passengers on this fishing trip for kids.
What is your refund policy?
Cancellation by the Captain
If I cancel your trip due to dangerous weather or for any other reason, I will refund your deposit or prepayment. Of course, I will gladly reschedule your charter, if possible.
Cancellation by You
Please cancel by phone—no emails—at least seven days before the date of your trip. I will then mail you a refund of your deposit or prepayment, minus a $5 processing fee.
If you cancel too late to receive a refund or you do not show up for your charter, you will forfeit your deposit.
Do I need a fishing license?
If you pay to go fishing with me, you do not need a license.
Do I need to bring my own bait and tackle?
No, I supply the bait, tackle, and ice for the fish cooler. However, each angler is welcome to bring his or her favorite rod and reel.
Will you clean the fish we catch?
No, but I will happily teach you how to clean your fish or offer suggestions on who might do it for a fee.
Do you have age limits?
No, all ages are welcome, including infants when the sound is flat. Please contact Captain Lenny if you plan to bring an infant on your charter.
At what age can a child begin fishing from a boat?
A child can safely fish from a boat when he or she is old enough to walk and big enough to wear a personal flotation device.
Do you supply life jackets?
I carry coast guard-approved life jackets for toddlers, kids, and adults. However, if you are bringing an infant, please arrive at the boat ramp with a well-fitted life jacket as I do not carry one.
May I bring food and beverages on the boat?
Yes, I encourage you to bring snacks and water in a small cooler—no glass containers, please.
Do I need to bring a cooler?
Yes, bring two coolers: a small one for your snacks and water and a large empty one for your fish, if you plan to keep your catch (I supply the ice for your fish cooler).
Which boat ramps do you launch from?
I launch from the following public boat ramps:
I will let you know where and when we will meet one or two days before your charter.
Is there a toilet on your boat?
No. However, there is a portable restroom at the Bowsertown Road boat ramp and the Washington Baum Bridge boat ramp in Manteo (the Manns Harbor and Wanchese public boat ramps do not provide this facility).
I will do my best to accommodate you but sometimes we have to get creative.
What might I see while fishing on the Outer Banks sounds?
You might get an opportunity to see a variety of marine animals, birds, and activities. However, there are no guarantees.
If you book a fishing charter or Kid's Soundside Adventure to Oregon Inlet, you will see the Bodie Island Lighthouse and "Duck Island" in the distance.
Marine Life
Atlantic bottlenose dolphins
Loggerhead sea turtles
jellyfish
Birds
Ospreys
Brown pelicans
terns
gulls
egrets
Vessels
crab boats
shrimp trawlers
tugboats
dredgers
People
jet skiers
parasailers
US Coast Guard
Of course, you will always get to look at the beautiful marshlands and the small islands scattered throughout the sounds.
I suggest that you wear a hat, sunglasses, swim trunks, and wading shoes. Your wading shoes should have a closed toe, heel strap, and thick soles. Also apply sunscreen before and during the charter.
Will I get wet on the Kingfisher?
There is always a chance that you will get wet due to spray, small waves, and/or rain. Protect your phones and cameras in water-proof cases or stow your devices in a soft-sided cooler or dry bag.
❝If you have other questions about my Outer Banks fishing charters, feel free to call (252) 202-6191 or email me.❞