Teaching kids to fish means exposing them to a fun activity and promoting a love of the outdoors, one that will likely last a lifetime.
❝Instructing kids correctly is crucial. They need to understand what fishing means, know how to use equipment, understand the natural history of a target species, and appreciate conservation as it applies to fisheries management.
As an Outer Banks fishing guide, I fish with people of all skill levels. Some of my guests have never been on the water or held a fishing rod and some are seasoned fanatics. I have fun guiding all these groups but my favorite thing to do is fish with kids.
Present Diversity to Encourage Fishing Curiosity
The secret to fishing with children is constant entertainment and engagement. I target game fish for seasoned anglers but I search for a variety of species when I have young ones on board.
Lots of bites and lots of different fish keep children busy and curious about what they might pull into the boat next.
In addition to Spotted seatrout (speckled trout), Atlantic croakers, Striped bass (rockfish), Bluefish, Weakfish, flounder, and other game fish, the Outer Banks sounds are filled with a fascinating variety of recreational by catch. We might hook creatures such as puffers, stingrays, toadfish, searobins, eels, and Blue crabs. Kids love to briefly examine their catch before we safely release it back to the water.
Use Tackle Made for Kids
I always match the tackle to the child. I try to provide light-weight rods with smaller grips to accommodate smaller hands. It is much more fun for him or her to reel in the fish than to require assistance. Of course, I always carry plenty of standard-sized equipment on board for teens and adults.
Get a Hook in Them with Exciting Action
A good technique for kids is fishing with a two-hook bottom rig. Two different types of hooks and two different types of bait on this rig will produce an assortment of fish. The use of two hooks allows for a double-header hookup, which is always a hit with kids. Bottom fishing is often fast-paced and holds everyone's attention. The action keeps me busy, which is what I enjoy.
Bottom fishing is an excellent way to introduce fishing to kids and gives them a good foundation for developing skills.
Depending on the ages and expertise of a young angler, we will try many other techniques such as casting, trolling, and live-bait fishing.
Teach More than the Catch
All my kids learn about
the habits of target species;
tying knots;
preparing baits;
presenting baits to fish;
setting a hook;
reeling in a fish;
handling fish close to the boat;
netting a fish;
dehooking a fish;
proper fish handling; and
what fish they may keep and what fish they must release.
Explain Game Laws and Site Examples
In addition to learning how to fish, we talk about conservation and the role of fishing game laws, including bag and size limits.
If you want to learn more about fishing with kids on the Outer Banks, contact me about my Kid's Soundside Adventure, a four-hour inshore fishing charter that I offer all summer and on weekends during the school year.❞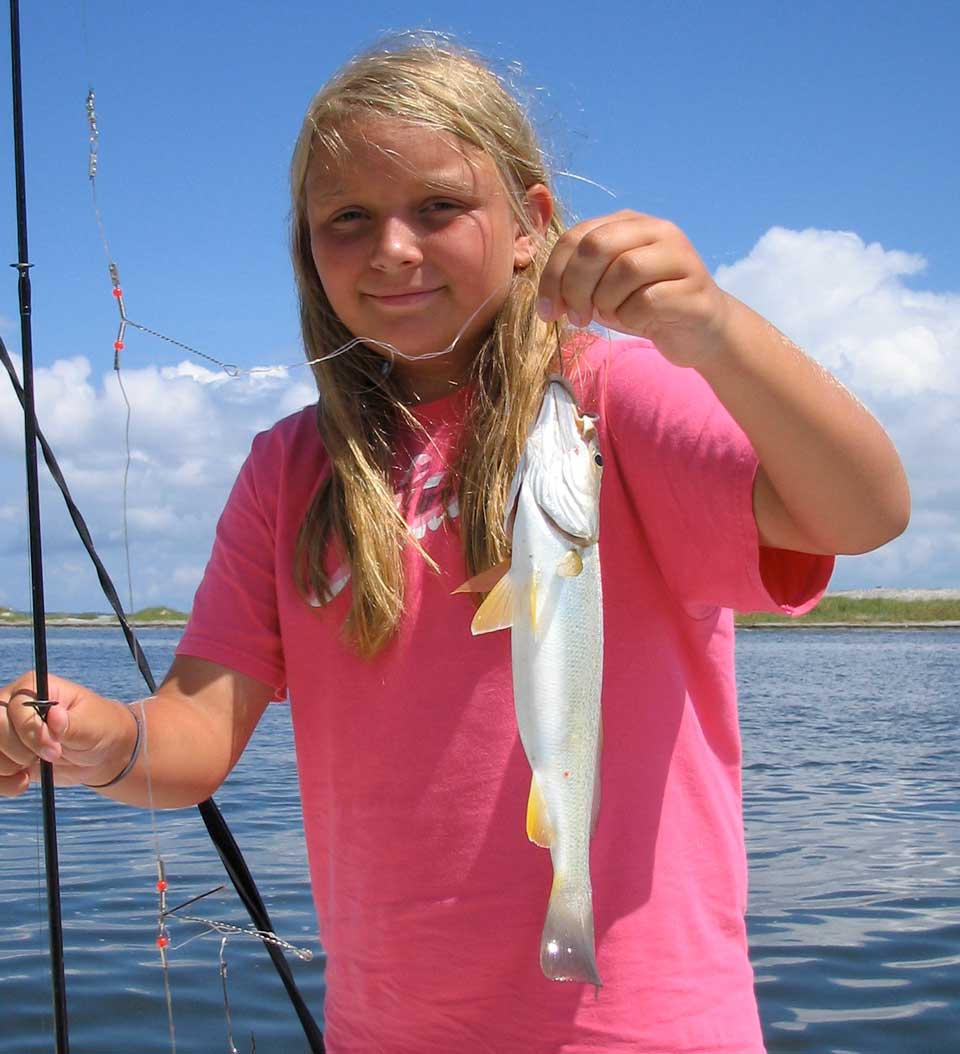 United States Coast Guard (USCG) Licensed
Science teacher at Columbia High School
Coach of the Wildcat Anglers